Full Stack Development & Consultancy for Startups
Just like a rocket needs a strong first stage booster to get into orbit, your innovative project needs strong technical expertise to get it off the ground. Whether you need guidance to assess the feasibility of your idea and map its requirements, help writing technical documents to get your idea funded, or a hands-on developer to create your first prototype or establish an online identity, First Stage is there for you!
Ready for lift off? Let's go!
Specialist in Innovation
First Stage's mission is to help you get your innovative digitization project up and running, right from the start until you're ready to go to production, or anywhere in between.
This could be in the form of long-term collaborations for hands-on development, project management, or even co-founding. Of course, the number of long-term commitments I can make in parallel is limited. At the moment, I already have long-term roles in two startups, and do not plan on taking up a third in the foreseeable future.
However, there's also plenty I can do in the form of brief assignments such as: consultancy, feasibility studies, software architecture, data modeling, roadmapping, work estimates, bootstrapping of your IT needs ... or all of the above.
Sound like what you need? Then meet who you'll be hiring!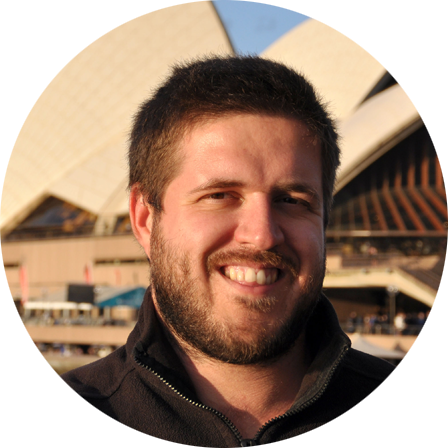 Tom De Nies
After years of R&D experience in Web and Media technologies, I found my dream job in 2017, developing the first prototype for an Australian startup. It was such a good experience, I decided to keep working in this field. Since 2018, I've been active in two startups, driving their product development to a point where first sales can be made.
Over the years, I achieved a Master and PhD degree in Computer Science, and have built up experience in all of the roles associated with a full stack developer, without specializing in either of them. There are many interpretations of the term "full-stack developer", but this one as found on Quora sums it up nicely: "a full stack developer is: a back end developer/ a front end developer/ a database manager/ a report writer/ a designer/ an architect/ a project manager/ ..." This means that my skills will be most useful to you if your organization or project does not have the resources (yet) to fill in multiple of these roles with a specialist. That is why I prefer to focus on working with startups and small organizations, as larger organizations usually have people dedicated to these roles. I have extensive experience in technical and scientific writing, which comes in handy for grant applications, project proposals, documentation, etc.
Code-wise, my comfort zone encompasses NodeJS for back end development, and HTML/CSS/JavaScript for the front end, as well as Angular/AngularJS. Of course, I am flexible enough to adapt to the right technology for the job.
Technical Consultancy
A tech startup runs on more than just code. Turning an idea that exists solely in your head into a reality can be a daunting task in its own right, especially when you lack certain expertise and experience.
There are many things I can do to help here, including:
Technical feasibility assessment
Requirements analysis
Roadmap drafting
Data Modeling
Technical writing
Software architecture
Advisory/managereal roles
Development
:
Web frontend development
NodeJS backend applications
MEAN stack applications
Data integration and migration
Consultancy
For all technical consultancy activities listed above, my base rate is €80 per hour, 21% VAT excluded. I accept assignments starting from a minimum of 4 hours, with a maximum of 2 working days per week.
For recurring and/or longer assignments, a custom rate may be negotiated. For grant applications, project proposals, etc. where funds/subsidies are sought after, the possibility exists to work on a no-cure-no-pay basis.
Development
Since development is rarely a matter of hours, I offer these services on a per-day basis, at a rate of €600 per day. One working day includes 8 hours of work on average.
Depending on complexity of the task, and always after a prelimininary estimation of the amount of work involved, a flexible rate can be negotiated on a case-by-case basis.
All rates above exclude 21% VAT.
Hyperflow.tv
Hyperflow.tv was my first encounter with freelance prototyping. It's main product is a next-generation video tagging platform for connecting people with knowledge and services through media. I was hired to build the first working prototype, based on the founder's designs and mockups. After two research & development iterations of 8 weeks, the first of which I worked as the sole developer in close collaboration with the company's founder, we were able to roll out a new prototype built from scratch. The software was capable of presenting an interactive player for online videos, automatically generating semantic annotations, as well as basic manual authoring. The prototype allowed the company to raise new funding, and transition to another development iteration.
"Tom was a huge asset to the project - contributing his considerable knowledge and expertise to everything from scoping and implementation to project management and employee training. Most importantly he was always open, honest and trustworthy - and an all-round great bloke!"

- Tom Phillips (Founder)
Qdots
Qdots offers intelligent conversational bots as virtual assistants, specialised in continuous compliance assessment (and assistance). This enables companies to steer and follow-up compliance awareness and behaviour in a very granular way, thereby significantly saving on costs and gaining on risk reduction and compliance performance. I came on board in the idea phase of the startup, and built a prototype content management system in NodeJS & AngularJS, while a second developer created the conversational engine for bots. This turned into great synergy, and an excellent innovative product!
"For a conversational application, we asked Tom to develop a prototype, and in a next stage a minimal viable product. We were impressed, not only by the speed of working and the quality of the software, but also by his entrepreneurial spirit and open trustworthy way of working."

- Patrick Belpaire (Co-Founder)
Strategic Water
Strategic Water is a Belgian startup aimed at water technology providers, merging cutting-edge data science with water treatment technologies, in order to optimise performance and increase sales. The web platform allows central oversight and analysis across a network of treatment units, and actively analyzes the treatment plants and their cloud data, extracting correlations with the most advanced data analysis tools. I joined the team as software lead, which made me responsible for expanding the Angular frontend of the platform and building a NodeJS backend from the ground up.
"I highly recommend Tom, it was very easy to go from 0 to 100 and move towards tangible demos that we could bring to clients and win projects. Beyond his programming skills, he contributed to investor pitches, accelerator discussion, and - importantly! - was able to connect us into his network to find us some solid machine learning expertise. An absolute pleasure!"

- Stephen Andersen (Founder)