Full Stack Web/Media Development & Consultancy
Just like a rocket needs a strong first stage booster to get into orbit, your innovative project needs strong technical expertise to get it off the ground. Whether you need guidance to assess the feasibility of your idea and map its requirements, help creating technical documents to get your idea funded, or a hands-on developer to create your first prototype, First Stage is there for you!
Ready for lift off? Let's go!
Specialist in Innovation
First Stage's mission is to get your innovative Web or Media-related project up and running, right from the start until you're ready to go to production, or anywhere in between.
This could be in the form of consultancy, software architecture, hands-on development, project management, data modeling, ... or all of the above.
After a rocket has been brought into orbit, the first stage usually drops back to the planet below, ready for new missions to come. Similarly, when your project reaches production, you should be ready to hire your own team to keep it up and running, with First Stage's role phased out.
Sound like what you need? Then meet who you'll be hiring!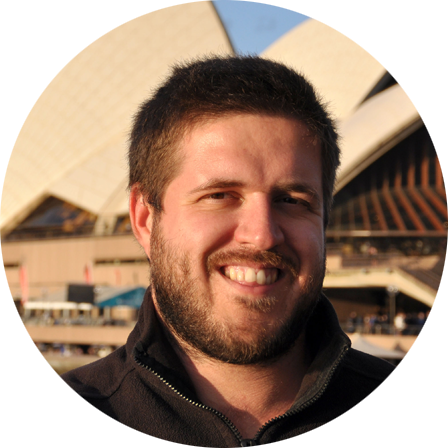 Tom De Nies
After years of R&D experience in Web and Media technologies, I found my dream job in 2017, developing the first prototype for an Australian startup. It was such a good experience, it prompted me to start my own business in this field.
Over the years, I achieved a Master and PhD degree in Computer Science, and have built up experience in all of the roles associated with a full stack developer, without specializing in either of them. This means that my skills will be most useful to you if your organization or project does not have the resources (yet) to fill in multiple of these roles with a specialist. That is why I prefer to focus on working with startups and small organizations, as larger organizations usually have people dedicated to these roles.
Code-wise, my comfort zone encompasses NodeJS for back end development, and HTML/CSS/JavaScript for the front end. Of course, I am flexible enough to adapt to the right technology for the job.
Full Stack Web/Media Development
There are many interpretations of the term "full-stack developer", but this one as found on Quora sums it up nicely.
A full stack developer is:
A back end developer
A front end developer
A database manager
A report writer
A designer
An architect
A project manager
In other words, a full stack developer has experience in all of these roles, without specializing in either of them. This is exactly what I offer: all-round development of your Web application, up to a point where a more specialized developer is needed.
Consultancy
Turning an idea that exists solely in your head into a reality can be a daunting task, especially when you lack certain expertise and experience.
There are many things I can do to help here, including:
Technical feasibility assessment
Requirements analysis
Data Modeling & Publishing
Technical writing
Software architecture
...
If you need to know exactly what you're getting into with your new project, or you need comprehensive technical documentation to convince that important investor, get in touch right away!
It's not easy putting a price on innovation... that's why there's no "one size fits all" formula here. Since First Stage's services are tailored to your needs, so are the hourly rates.
Hire @ Full Rate
Naturally, the full hourly rate you will be charged depends on the length and complexity of the job. For example, overseeing the development of a novel prototype will require more specialized expertise than building a fairly standard functional website.
Any contract is always preceded by an exploratory meeting (either online or face-to-face), after which it will become clear what kind of expertise you need, and we can determine a price for your project.
Equity
Startups offer a very rewarding environment to work in, and often boast amazing new ideas and exciting projects. Unfortunately, they also often lack the cash to hire the right people.
For startups, First Stage offers a special formula, where we work out a balance between time paid at full rate, and time invested at my own expense, compensated by equity.
This way, you get an affordable engineer to advance your technologies, and I stay involved even after the initial contract has finished. Think of it as getting an investment in time, instead of cash.
Hyperflow.tv
Hyperflow.tv was my first encounter with freelance prototyping. It is a startup whose main product is a next-generation video tagging platform for connecting people with knowledge and services through media. I was hired to build the first working prototype, based on the founder's designs and mockups. After two research & development iterations of 8 weeks, the first of which I worked as the sole developer in close collaboration with the company's founder, we were able to roll out a new prototype built from scratch. The software was capable of presenting an interactive player for online videos, automatically generating semantic annotations, as well as basic manual authoring. The prototype allowed the company to raise new funding, and transition to another development iteration.

"Tom was a huge asset to the project - contributing his considerable knowledge and expertise to everything from scoping and implementation to project management and employee training. Most importantly he was always open, honest and trustworthy - and an all-round great bloke!"

- Tom Phillips (Founder)